Raksha Mantri Hails New Energy, Commitment & Enthusiasm Of Start-Ups At Aero India 2023
Indian Investors pledge more than Rs. 200 crores through iDEX Investor Hub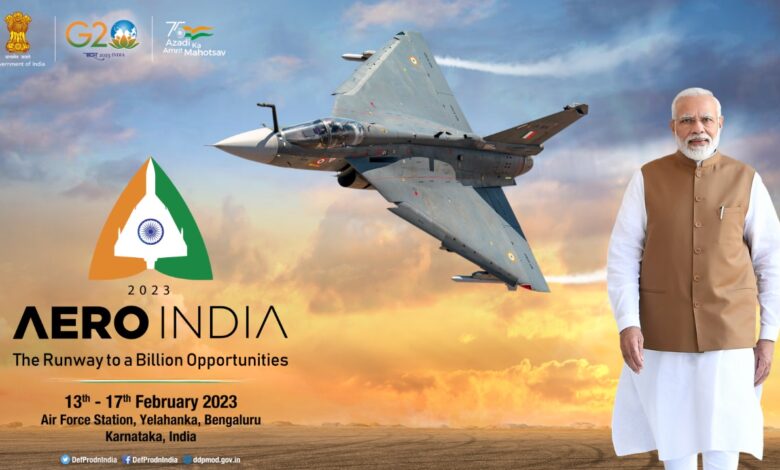 Speaking at the Start-Up Manthan at Aero India 2023 today, Raksha Mantri Shri Rajnath Singh equated Start-ups with new energy, new commitment and new enthusiasm. He said that start-ups are more open to adopting new technology architecture, making them essential to India's progress. Raksha Mantri applauded the growth of Indian start-ups in every sector, with numbers increasing to approximately one lakh today, including more than 100 unicorns. He added that this shows the enthusiasm of our youth and their drive to innovate. Raksha Mantri Shri Rajnath Singh also launched the Ninth edition of Defence India Startup Challenges (DISC 9) on "Cybersecurity" with 28 problem statements, and the iDEX Investor Hub (iIH). More than Rs 200 crores have already been pledged under iIH by leading Indian investors.
Shri Rajnath Singh said that the Innovations for Defence Excellence (iDEX) initiative, launched under the Defence Innovation Organisation (DIO) under the Ministry of Defence, has enabled talent from across the country to come forward. Our Services, DPSUs, Coast Guard as well as organisations under the Home-Ministry are giving problem statements to our youth, who are rising to the challenge every time, he mentioned. Raksha Mantri noted that India is supporting its youth to innovate, thereby empowering them to become job creators and manufacture indigenous defence products and reduce our dependence on imports. Appreciating the enthusiastic response of start-ups, industry and other participants to the "Start Up Manthan", he expressed confidence that India would emerge as a light house for the world in the field of innovation. He added that the event was a festival of the Indian Defence start-up ecosystem and an indicator of the success of iDEX. He said, "iDEX has helped the development of several home-grown technologies and has provided an important platform to showcase innovations and technological developments. Start-Ups that have developed because of iDEX are also getting orders, which has fostered the Start-Up ecosystem in the country. iDEX has also given professionals the opportunity to understand futuristic technologies like Artificial Intelligence, Augmented reality, and Block-chain."
Raksha Mantri informed that iDEX has introduced several innovators to the market, leading to direct and indirect employment generation for our skilled, and semi skilled workers. In recognition of its impact, the platform was given the PM Award in the Innovation category, he informed. He also mentioned that the Ministry of Defence has established a simplified, fast track procedure for procurement from start-ups and MSMEs due to their employment generation potential. He said that iDEX has contributed to Aatmanirbharta in the Defence ecosystem and emphasised the government's commitment to support entrepreneurs through new opportunities and facilitate development of technologies through policy interventions. To this end, the government has introduced various grants to encourage innovators and start-ups, he said.
Raksha Mantri also said that India could not take advantage of the industrial revolution due to colonialism, which continues to affect several third world countries. He highlighted the need to change the parameters of competition to enable developing countries to catch up. He emphasised the need to re-define competition for development and move away from reliance on obsolete technologies and systems of production. Innovating in new sectors will enable us to reduce the gap between nations, he said. Giving the example of UPI payments as an innovation developed by Indian youth and introduced to the world, Raksha Mantri said that even developed nations are studying this technology to learn. He called for introducing similar innovations in existing methods or developing new technologies to usher in the next Generation Industrial Revolution. Raksha Mantri Rajnath Singh exhorted all participants in Start-Up Manthan to go beyond our nation's 'Tryst with Destiny' and move to a new mantra of 'Design our Destiny', hailing youth as the designers of India's future.
DISC 9 is the first collaboration of iDEX with Indian Cyber Crime Coordination Centre (i4C) division of Ministry of Home Affairs. These challenges have been curated from Services, DPSUs, and Ministry of Home Affairs, revealing the deep impact and interest iDEX has generated amongst our Defence industry. The winners of DISC 6, first three editions of iDEX Prime, and Open Challenge 5 & 6 were also felicitated. Phase 1 winners of challenges under Mission DefSpace were announced and felicitated. Innovators showcased futuristic technology developments in the domains of Autonomous Systems, Advanced Sensors, Space Technology, and Industry 4.0 at a static exhibition of start-ups supported by iDEX-DIO.
The 'iDEX Investor Hub' aims to accelerate investment in the Defence sector and give investors a unified view of opportunities and innovations. Defence Innovation Organisation (DIO) also signed MoUs with leading investors at Manthan. Another MoU was signed with Axis Bank. DIO has also signed MoUs with ISRO, IN-SPACe, and ISpA to further strengthen the Defence Space. Another MoU was signed with the Border Roads Organisation (BRO) to potentially launch start-up challenges in the future. The fourth edition of Innovate4Defence internship (i4D) was also launched, inviting applications from students all over India.
Raksha Mantri also released the Indian Army's compendium of 110 Problem Statements for indigenous defence research, design, development and manufacturing ecosystem. The Problem Statements highlight Indian Army's technological challenges and requirements in various domains ranging from Armament, Surveillance & Fire Control Systems to niche domains such as Artificial Intelligence, Blockchain, Metaverse, Robotics, Quantum Technology, Cyber, Smartisation of Ammunition etc. Further, they also involve induction of new technologies, upgradation of existing systems & indigenisation of critical components. This Compendium would enable focused efforts towards modernising the Indian Army with indigenous solutions, thereby building a stronger and Atmanirbhar Bharat. Industry and Academia will be hand-held by Indian Army through various research and development routes including iDEX, Technology Development Fund (TDF) and Army Technology Board (ATB).
iDEX-DIO also signed its 200th contract with a winner of the Indian Navy Prime challenge launched under the SPRINT initiative.