Raksha Mantri Visits Southern Naval Command, Kochi, Amidst Protest By Naval Civilian Employees Against Corporatization Of OFB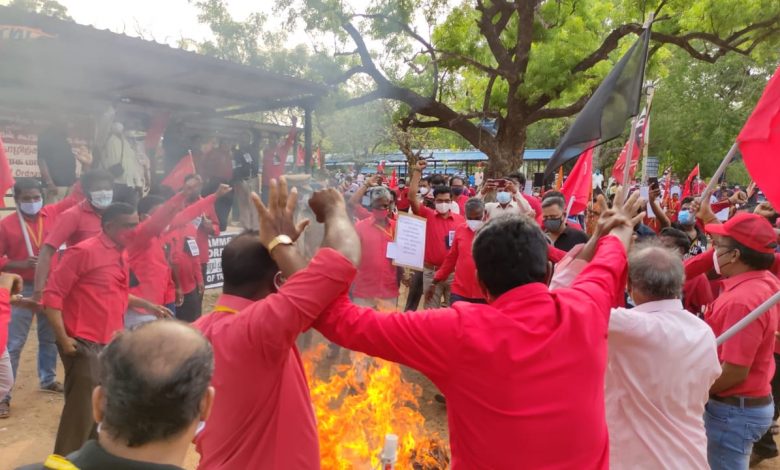 The struggle of the employees of 41 Ordnance Factories are gaining momentum. Protest programmes are going on in all the Ordnance Factories. Relay Hunger Strike with family members is going on in Ordnance Factory Kamariya, Jabalpur. The AIDEF, INDWF and BPMS who are spearheading the struggle have written a heart touching Letter to Rajnath Singh and Senior Officials on 23.06.2021, which www.indianpsu.com already published. No response from the Government so far. It is now 10 days after the conciliation proceedings failed. Labour Ministry has not referred the matter for adjudication / arbitration. Reliable sources from Ministry of Labour says, Government is not going to refer the dispute to the Labour Court. Even though, there are many Supreme Court Judgments that the affected parties can file a Writ in the High Courts for issuing a writ of mandamus against the Labour Ministry or referring the dispute to adjudication.
Government is so far neither prepared for a negotiated settlement or refer the matter to arbitration, rather it seems it wanted to crush the striking rights of the employees.  Officials in the DDP dealing the matter has become a confused lot due to pressure from the Higher Officials and PMO. Immediately after a Cabinet decision on 16.06.2021 on 17.06.2021 the DDP issued a notification for selection of CMDs and Board of Directors from amongst the IOFS Officers by fixing eligibility criteria as 57 years and below as on 01st October, 2021 for the new 7 Corporations. Hue and cry started from the Senior IOFS Officers that they will not work under Juniors. Many threatened of going to Court of Law. Those who are closer to Senior Officials and Political Leaders seem to have approached them in private. Then comes an amendment that even those who are at the verge of retirement, 59 years age can also apply. Now Junior Officers are crying. Then Government issued another notification that even Army Officer and DPSU Executives can apply. Total mess in dealing with the Corporatization issue. Already mess is created by declaring 7 unviable Corporations. How can one Factory (OPF Kanpur) become a Corporation with one CMD and  4 Directors whereas the Ammunition Corporation with 12 Factories also will have 1 CMD and 4 Directors. Many series of amendments can be expected in the coming days.
Employees and their Unions are preparing for the strike. Government silently issued a notification extending the classification of Defence Industry as "Public Utility Service" upto December, 2021. Essential Service Maintenance Ordinance (ESMO) is expected any time. It is going to be draconian according to sources.
In this backdrop Defence Minister Rajnath Singh is visiting Southern Naval Command / Kochi Naval Base today. The Trade Unions of Naval Civilian Employees of Southern Command have already issued a notice to hold a demonstration and to attend duty by wearing black badge during the visit of Raksha Mantri, Rajnath Singh, to protest against the Government decision to slice the Ordnance Factories into 7 pieces. The Unions asked for an appointment with the visiting Defence Minister to submit a Memorandum demanding for withdrawal of Corporatization of Ordnance Factories. The Flag Officer Commanding Chief of Southern Naval Command has refused to grant an appointment to the Unions with the Defence Minister. Naval Base Civilian Employees are receiving Rajnath Singh with Black Badge.
www.indianpsu.com approached C.Srikumar the General Secretary, AIDEF and he said "No doubt that the Government is insensitive towards Ordnance Factories and its committed workforce. Government cannot ill-treat such a devoted Ordnance Factories Organization and its employees. Any Senior IAS Officials who are dealing this matter in South Block and North Block will they accept if their IAS status is downgraded and if their status as a Government Officer is changed. The Employees of the Ordnance Factories are not ready to accept Corporatization and slicing them into pieces, because they know it is a death knot on their neck. We are ready to face any consequences to save the Indian Ordnance Factories. After all hundreds of employees have sacrificed their life in accidents while manufacturing Defence equipments, in the last one year hundreds of employees died due to Corona infection and this is the inhuman approach of the Government towards one of the most talented and devoted workforce of our Country. Country cannot view our struggle is to save just the services of 76 thousand employees. It is a struggle to save the pioneer Defence Industry which is having one of the largest national asset with 65 acres of valuable land and worth Rs. 2 lakh crore infrastructure. The game plan after Corporatization is to silently liquidate all these assets. Therefore, we need the support of all patriotic citizens, political parties, social Organizations, Trade Unions and Media in this struggle. We are meeting on the 27th of this month to forge a broader unity beyond the three recognized Federations and to relentlessly fight for justice. One has to remember that the Farmers even after 200 days of struggle are still on the street fighting for their rights. They are an inspiration for the employees of Ordnance Factories".
www.indianpsu.com is closely monitoring the developments within the Ordnance Factories and will continue to report all important news items related to this issue.