RINL Celebrates 41st Formation Day With Tree Plantation Drive And Other Programs
Let's rededicate ourselves to take the PSU to higher horizons of Growth & Prosperity : Atul Bhatt, CMD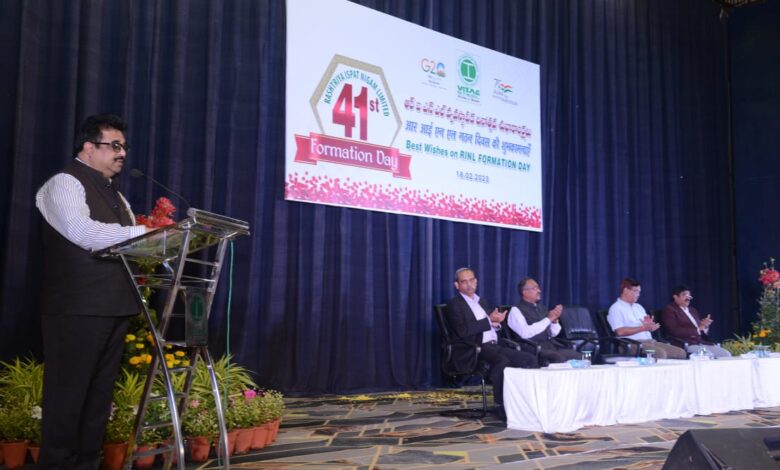 Addressing the RINL fraternity at the Multi-purpose, Ukkunagaram club on the occasion of 41st Formation Day celebrations of RINL-VSP, Shri Atul Bhatt, conveyed his heartiest congratulations to all the award winners and said that he firmly believes that they would serve as catalysts for promoting an innovative culture across the organization.
On the occasion of this glorious day of formation day, let us remember with gratitude all those who have participated in building RINL. We have a great responsibility on our shoulders to carry on the tradition of making RINL the most preferred steel company. I am sure with the passion, dedication and indomitable spirit of the RINL collective; we will definitely keep the flag of RINL flying high. On this occasion let us together pledge to make 2023 a memorable year for RINL." Shri Atul bhatt said.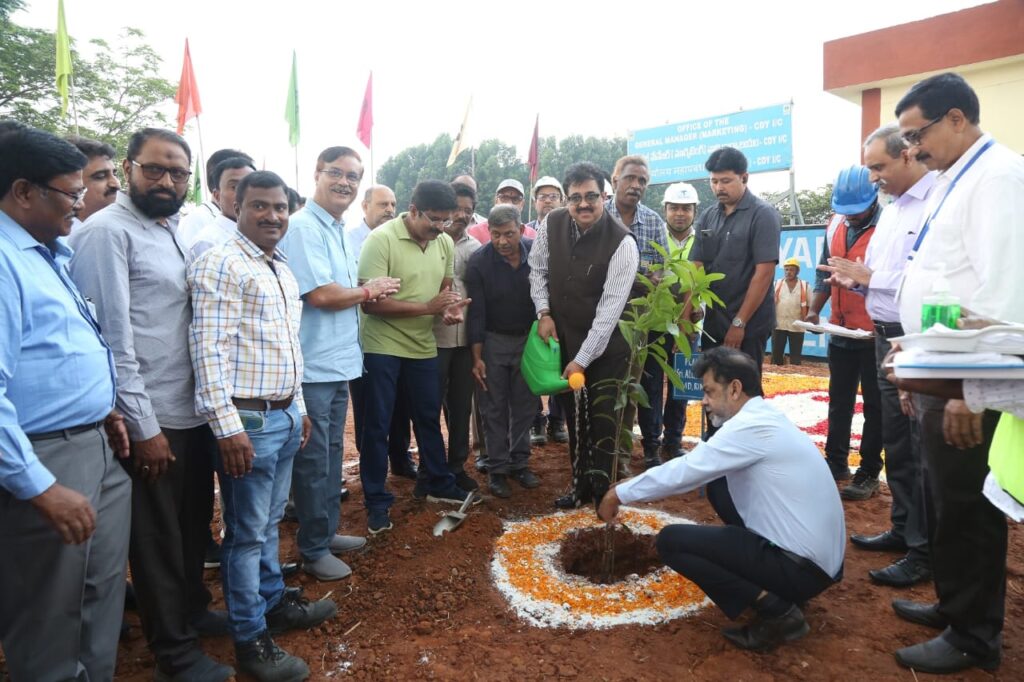 Shri Atul Bhatt lauded the RINL collective for taking new initiatives which led to achieving record production on various fronts like: Best daily production of 16,250t from any 2 Blast Furnaces on 20/01/2023, Best monthly production of Hot Metal from BF-1&2 with 108% capacity utilisation in Jan'23, Best monthly production of Finished Steel from Expansion Mills, crossing rated capacity for the first time, in Jan'23, Growth of 19% in production of Finished Steel from Expansion Mills during Apr-Jan'23, Growth of 10% in production of High End Value Added Steel during Apr-Jan'23, Increase in Value Added Component of Steel to 27% of Domestic Sales during Apr-Jan'23 from 22% in CPLY and for Increase in share of TMT sales in high NSR(net sales realisation) Regions to 84% during Apr-Jan'23 from 71% in CPLY(corresponding period last year).
Shri Atul Bhatt lauded the RINL collective for producing loco and LHB wheels at International standards meeting stringent quality standards from Forged Wheels from Forged Wheel Plant in Raebareli, UP to Indian Railways.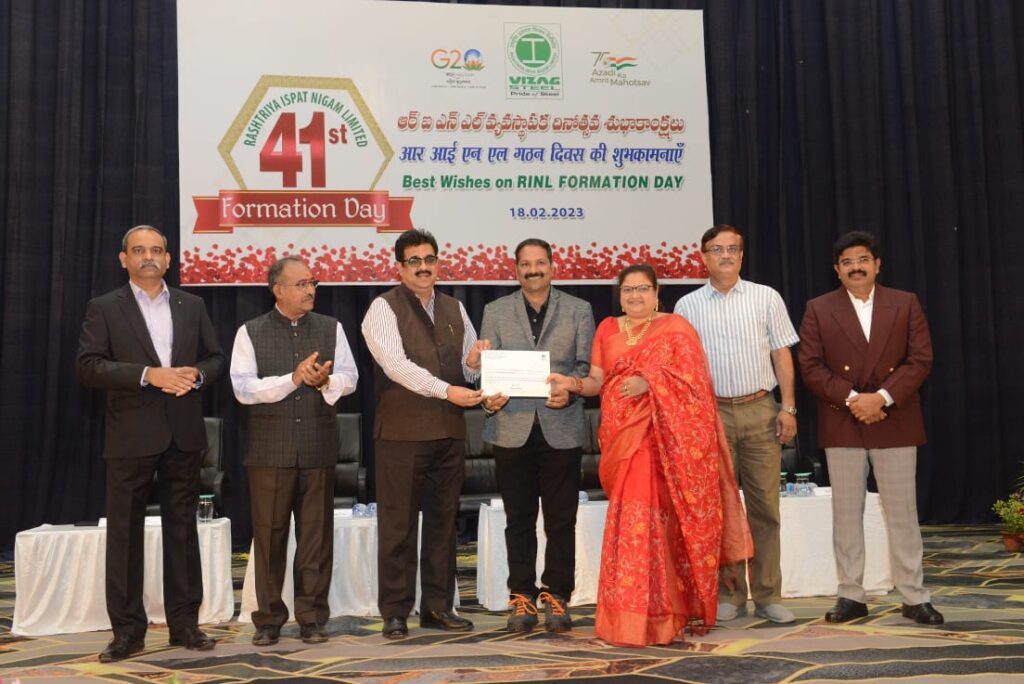 Shri Atul Bhatt said that due to the dedicated efforts of RINL collective several recognitions both at National and International levels were showered on RINL like National Energy Leader Award for fourth time consecutively and Excellent Energy Efficient Unit Award for sixth time in row from 2017 onwards from CII Godrej Green Business Centre, Greentech Corporate Governance Award 2022 for excellent performance in the areas of Corporate Governance, Prestigious ICAI award to Shri VV Venugopal Rao, director (finance), RINL at the 16th ICAI Awards for attaining exceptional levels of professional achievements in industry & business, 3 prestigious Gold Awards by lean quality circle (LQC) teams at the International Convention on Quality Control Circles (ICQCC-2022), Jakarta, Indonesia, 'Gold Awards' at the Chapter Convention on Quality Concepts (CCQC)-2022 by QCFI and several awards.
Earlier in the day, the celebrations started with a tree plantation drive at Central Dispatch Yard (CDY) of Marketing department of RINL inside the plant in which Shri Atul Bhatt, CMD, RINL, Directors, & CISF Commandant, members of trade unions, steel executive union, WIPS(Forum for women in Public sector), customers of RIN and other dignitaries planted saplings.
Later in the evening, Shri Atul Bhatt accompanied by directors, commandant lighted the traditional Jyothi and started the function at the Multi-purpose hall of Ukku Club (Ukkunagaram township) of RINL. Charming school children of Ukkunagaram schools have enthralled the audience with the welcome dance.
Shri Atul Bhatt, CMD, RINL presented 96 Jawahar Nehru awards to selected employees (executives & non-executives) in recognition of their outstanding performance by Shri Atul Bhatt, CMD, RINL.
Later, the Bravery award was received by the family members of Sri GVR Manhohar reddy, DGM(Operations), Blast Furnace who has displayed outstanding bravery in catching a thief at Ukkunagaram township.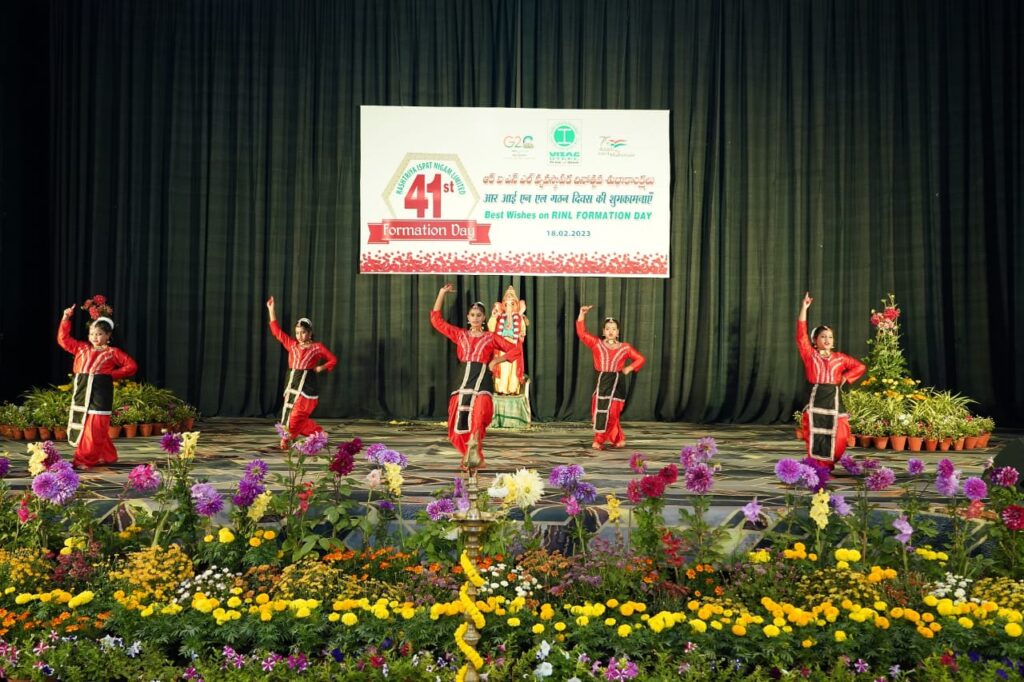 Shri Atul Bhatt, CMD, RINL also presented CISF commendation awards were also presented to 21 CISF personnel for the hard work and commitment on duty exhibited by them.
The 41st Formation Day function was graced by CMD along with all Directors, Commandant, CISF, CGMs, Heads of departments, senior officials, Award winners with their family members, representatives of SEA & WIPS, representatives of trade unions, SC/ST association and OBC association.
The programme was conducted by the Corporate Communications department in association with several other departments of Viskhapatnam steel plant.