RINL Observes 52nd National Safety Day At Learning And Development Centre Auditorium
Prizes were distributed by dignitaries to school children and employees who emerged winners in various competitions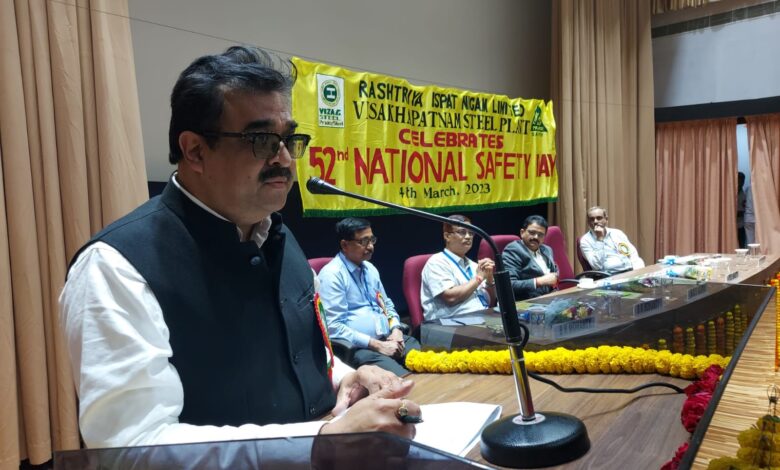 Director of Factories Shri DCS Varma attended the function as Guest of Honour. Chief Guest Sri Atul Bhatt, CMD while delivering his message on the occasion said that it is the day for the employees and citizens to rededicate themselves towards working safely to ensure Zero Harm. Any deviation is not tolerable for achieving zero risk which in turn will result in zero harm.
Shri Atul Bhatt stressed that in RINL training is being imparted to all and a culture of not accepting any deviation is being exercised. "Latest technologies like usage of drones, digitalisation etc are being used towards ensuring safety" Shri Atul Bhatt added. Shri Atul Bhatt said that as a step towards greater digitalisation, a project named Kalpataru is launched in RINL where start-ups are invited for helping in VSP for minimising deviations and in improving in Production with safety. He thanked factories department of Government of Andhra Pradesh, especially Shri DCS Varma, Director of factories, Govt of AP for the support being extended to RINL. He appealed to all employees and contract workers to strive for Zero Harm.
Shri DCS Varma, Director of safety, Govt of AP and Shri Atul Bhatt CMD RINL & Directors administered safety pledge to all at the 52nd National safety day celebrations at RINL.
Speaking on the occasion, Shri DCS Varma, The Director of factories, Govt of AP, appreciated RINL's commitment on Safety and emphasised the importance of Zero Harm. He said that the Zero Harm can be achieved with commitment and dedication for avoidance of deviation and Not accepting deviation can help for zero exposure to hazard which in turn will result in Zero Harm. He has suggested the adoption of emerging technologies like Internet of things (IoT), Virtual reality, robotics, drone technology etc for better monitoring and better safety.
Prizes were presented by the dignitaries to the school children and employees who emerged winners in various competitions like essay writing, posters conducted on safety which were conducted as part of the National safety day celebrations.
Shri DK Mohanty, Director (Commercial), RINL, Shri AK Bagchi, Director (Projects,) & additional charge Director (operations),RINL, CGM(Works )I/c, CGM's, HoD's, GM's, Senior officers of RINL, representatives of SEA, Unions, SC&ST association, WIPs , Employees and school children participated in the national safety day celebrations.