SBI Partners For Madhya Pradesh Edition Of Khelo India Youth Games
SBI feels privileged to get opportunity to nurture sports ecosystem in the country
For the second year in a row, the State Bank of India (SBI) has extended its sponsorship for Khleo India Youth Games (KIYG) in Madhya Pradesh and remained as KIYG's Principal sponsor for KIYG 2022 edition.
"We are delighted to continue our association with Khelo India which supports and promotes the aspirations of Indian youth towards sports. At the ongoing Khelo India youth games 2023, we are happy to witness increased participation from young athletes showcasing their sportsmanship. Through this partnership, we aim to nurture the value of sports and fitness among Indian youth" said SBI.
Besides SBI, Dream Sports has also come back to sponsor KIYG as their co-powered by sponsor and is delighted to be associated with the KIYG brand again.
Speaking about their association, Bhavit Sheth, COO & Co-Founder, Dream Sports, said, "It is our privilege to associate with the Khelo India Youth Games that share our passion of empowering India's youth and our vision to make sports better. Through this partnership, we hope to continue to work towards our common goal of nurturing India's sports ecosystem and encourage our budding athletes to pursue sports."
This is the second year in a row that Khelo India has opened up to corporate sponsorship for the KIYG with the aim to achieve the objective of a win-win and work-work relationship for both Khelo India and the Sponsor.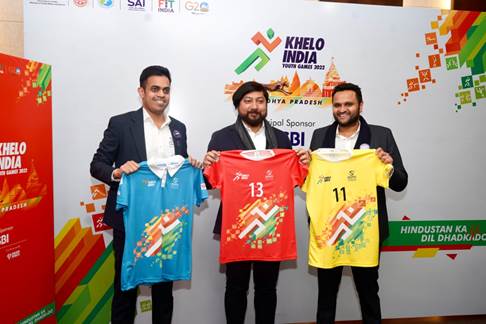 While both SBI and Dream Sports have partnered with KIYG in the past, this is the first time that Sports for All (SFA) has come on as KIYG's powered by sponsor. Talking about the new association Rishikesh Joshi, Founder & CEO of SFA said " Sports For All (SFA) is honoured to come on board as the Powered By Sponsor for KIYG. Khelo India's mission to create a sporting aspiration across the country and build medal-winning athletes is something SFA resonates with strongly. At SFA it is our relentless effort to help build a sporting culture at the grassroots level and we believe such a deep-rooted partnership will accelerate India's growth as a sporting nation."
The Khelo India Youth Games Madhya Pradesh edition kicked off on January 30th and will conclude on February 11 across eight cities of Madhya Pradesh. Nearly 6000 young athletes from 36 states and Union Territories are participating in the Games.
In this edition of the Games, a total of 27 sporting events have featured, with water sports such as Kayaking, Rowing and Water Salom making their KIYG debut.