SCOPE-ILO Unveil Comprehensive Study On 'Impact of Work from Home (WfH)' On Women Executives
SCOPE –ILO study provides a very useful starting point for such guidelines and policy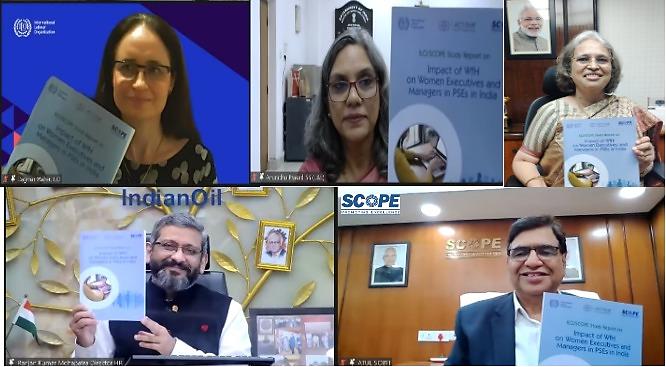 SCOPE & International Labour Organization (ILO), Geneva released a comprehensive study on 'Impact of Work from Home' (WfH) on Women Executives and Managers in Public Sector Enterprises (PSEs) in India with Guidelines for a Gender Sensitive WfH Policy in PSUs.
The report was released virtually in the presence of Ms. Anuradha Prasad, Special Secretary, Ministry of Labour & Employment; Ms. Dagmar Walter, Country Director, ILO; Ms. Soma Mondal, Chairman, SAIL and Chairperson, SCOPE; Mr. Atul Sobti, Director General, SCOPE; Mr. Ranjan Mohapatra, Director (HR), IOCL & Chairperson, SCOPE HR Committee and Ms. Sanchir Tugschimeg, Senior Advisor, ILO, Geneva. Dr. Malika Basu, Consultant, ILO gave a presentation of the report.
On the occasion, Ms. Anuradha Prasad complimented SCOPE-ILO on undertaking the study on a very topical subject.
SCOPE –ILO study provides a very useful starting point for such guidelines and policy.
Ms. Dagmar Walter stated that the study is a landmark moment in SCOPE- ILO association and has reiterated the need for creation of an inclusive workplace to upsurge women participation in workforce.
Calling it a proud moment for SCOPE, Ms. Soma Mondal said that PSEs have time and again instantaneously responded to the transformations at workplace and the pandemic was no exception. She added that the report gives an optimised insight into how women workforce are managing this new normal.
Mr. Atul Sobti added that the report is an important step towards developing Gender inclusive work policy in PSEs that facilitates equal opportunities to women workforce.
Ms. Sanchir Tugschimeg commended the active and consistent effort of SCOPE and ILO encouraging deeper insights into this new reality at work.
Mr. Ranjan Mohapatra said that PSEs may circulate and look at active adoption of the guidelines customised to their organisational needs s WfH is a perennial reality today.
The SCOPE ILO study offers detailed insights about advantages and challenges of Work from Home after administering surveys including key informant interviews (KIIs) and one-on-one interviews with Senior Management including CMDs, Heads of HR and other executives. A record number of 1969 women executives in PSEs were interviewed to reckon the ground reality of the situation. The report also proposes a set of recommendations streamlined into guidelines for gender sensitive work from home policy in PSUs.