SCOPE & IMT Hyderabad Sign MoU On 'Digital Transformation in PSEs
DG SCOPE Atul Sobti emphasised that digitalization is one of biggest differentiators in an organisation's performance today

A Memorandum of Understanding (MoU) was signed between Standing Conference of Public Enterprises (SCOPE) and Institute of Management Technology, Hyderabad (IMTH) to conduct a research-based study on 'Digital Transformation in PSEs.' The MoU was signed virtually by Shri Atul Sobti, Director General, SCOPE and Dr. K Sriharsha Reddy, Director, IMTH, in the presence of Shri Jayesh Ranjan, Principal Secretary I&C and IT, Govt. of Telangana; Dr. S. K. Joshi, Advisor, Centre for Sustainability & CSR, IMTH and Former Chief Secretary, Govt. of Telangana; and Shri O. P. Singh, Director (Technical & Field Services), ONGC & Chairperson, SCOPE Committee on Digital Transformation.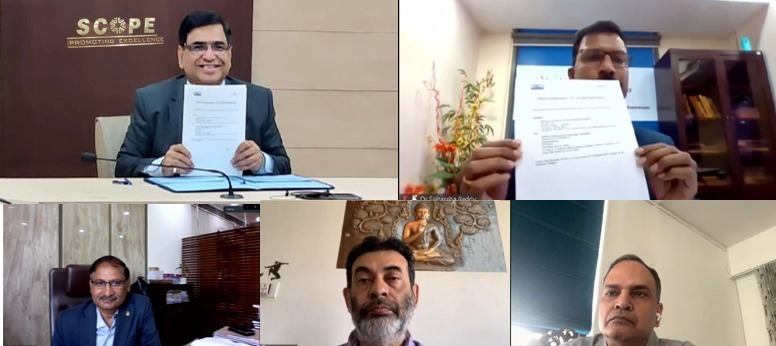 Shri Atul Sobti emphasised that digitalization is one of biggest differentiators in an organisation's performance today, and stipulated that the study aims at moving beyond data analysis and understanding internal efficiencies, external components of digitalisation and ways to accelerate digital transformation in PSEs.
Dr. K. Sriharsha Reddy said that as PSEs are major contributors in all strategic sectors of the economy, therefore this study aims at decoding PSEs' readiness to leverage emerging technologies.
Dr. S. K. Joshi congratulated SCOPE and IMTH on undertaking this ambitious study with PSEs, who are not only strategic partners in country's economic growth but also trend setters in imbibing emerging technologies.
Shri Jayesh Ranjan stated, that as the pace of technology has increased manifold, in this era of perform or perish, PSEs must aim for rapid adoption of new technologies. Shri O.P. Singh, highlighted the importance of the study for the PSEs, to better comprehend the need for digital efficacy.