SEA Writes Letters To All Members Of Parliament For Remerger Of RINL With SAIL
It is not appropriate to privatize the NNDC & RINL steel plant, says the organization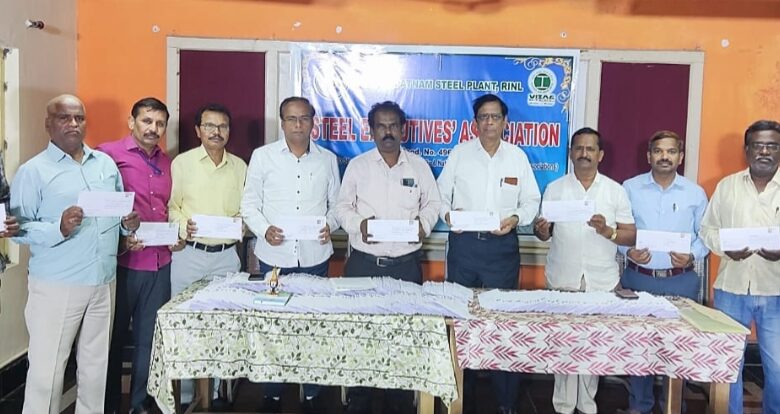 The representatives of the Steel Executives Association (SEA) said that it is wrong for Union Minister of State for Honble Steel Ministee Shri Faggan Singh Kulaste to say that there is no reconsideration of the privatization of Visakha Steel in the budget meetings of the Parliament in Delhi. In the context of the Parliament sessions, all members of the Lok Sabha and Rajya Sabha have asked that Rashtriya Ispat Nigam Visakha Steel should be remerged with the Steel Authority of India (SAIL) through which we can achieve further growth in steel production.
SEA wrote letters on behalf of the employees that the development of the country is possible by producing the best steel from the quality iron mines in the country.
In the representation it is mentioned that India, particularly backward areas of Uttarandha in AP can be developed to the expansion of tonnage capacity of Visakhapatnam Steel Plant, so that all the people accross India will get employment. Education, Health electricity, defense, IT, automobile etc. Any sector depends on steel, which is very important for the development of the country. Also steel sector plays a very important role in employment generation. It is proven Job creation in the Steel making private sector is very low, Employment through reservations in jobs for poor and other social sectors will be possible only PSUs.
If there is no public sector like cement there is no price control and will be more price impact on development projects from Swachh Bharat toilet to Atma Nirbhar. Steel plays a vital role in national development in coming years. Hence SEA asked to keep the steel sector as a priority sector. According to the National Steel Policy, the other government is pressuring the Steel Authority of India to expand the production capacity by another 15 million tonnes, and for this to invest more than one lakh crore by 2030 and it is not appropriate to privatize the NNDC & RINL steel plant at a low cost.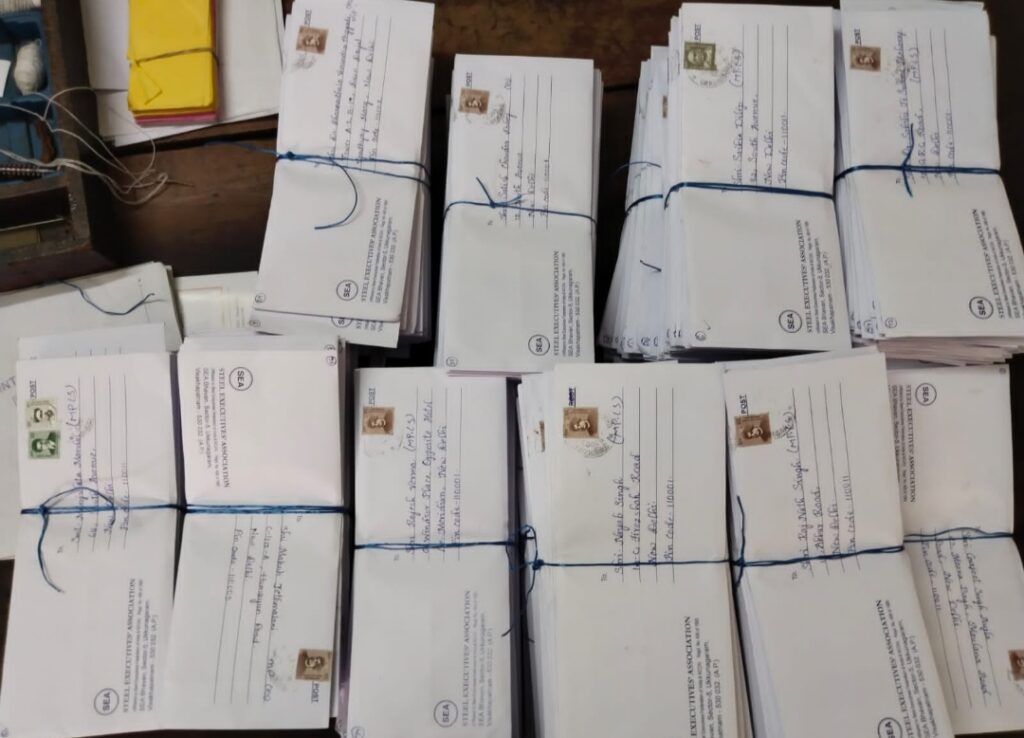 On this occasion, Mr. KK Rao, former director of steel operations, participated in the program held at SEA Bhavan. He said that Andhras have a lot of connection with Visakha steel. He not only participated in the Visakha Steel Andhra Right Movement during his student days, but after his further engineering, served as an officer in Visakha Steel and reached the level of Director Operations. In addition to playing a key role in the first phase three million tonne installation and production, he was also involved in granting approvals for expansion. It is suggested that appropriate changes should be made in the laws if land is to be collected and given to the public sector as well as the private sector. He said that there is an opportunity to move forward in the steel sector by remerging the Visakha Steel which was separated from the Steel Authority of India and back into the Steel Authority of India, making steel production more profitable and using the quality iron ore in the country properly.
SEA President NCOA Vice President Katam Chandra Rao said that SEFI and NCOA, the National Officers' Associations of Public Sector Undertakings, have also sent resolutions to the Prime Minister for the merger of steel public sector undertakings. General Secretary of Steel Officers' Association KVD Prasad, Vice-Presidents Chandra Venkateswara Rao, Joint Secretary Narasimha and other executive members participated in this program and posted letters to all members of Lok Sabha and Rajya Sabha on behalf of Steel Executives Association.
The content of the letter is given below for the benefit of the viewers of www.indianpsu.com –
Honorable Member of Parliament.
Government of India.
Respected
Subject:- Request for Strategic Merger of Steel Sector – RINL-SAIL
Greetings from Steel Executives Association (SEA), RINL representing 5000 plus executives. "Steel plays major role in every sector right from agriculture, education, Medical, transport, Automobile, infrastructure, ports, Air ports, defense, IT, communications, Railways and so on..
Steel sector provides huge employment as all MSMEs and Small scale units also depended on steel sector. our per capita Steel consumption is only 80 kg and far behind world average of 238 kg. in Rural areas we are lagging behind even African countries, even though we have the best quality iron ore reserves placed 7th in the world. "Steel being an essential component in the growth rate and contributes heavily to the GDP of our country, it should be kept under "Strategic Sector"
RINL/Vizag Steel, only shore based integrated steel plant, started its journey as part of SAIL till 1982. RINL formed in the year 1982 as separate entity. Unfortunately, captive iron ore mines were not allotted to RINL at that time. SAIL retains the mines reserved for Vizag steel. Since then, RINL has been suffering due lack of Captive Iron ore & Coal mines. RINL's raw material cost is around 65% of total cost where as that of SAIL's & TATA's is 48% & 35% respectively (both companies have their captive mines). RINL is losing about 1500-2000 crores per annum exclusively on account of lack of iron ore. Though, RINL has been performing well, only on account of high input cost on material, our net Profit and has become negative since 2015, added to that huge barrowings (nearly Rs 20,000 Cr) from market to increase the plant Capacity as per GoI plan. From 2007 to 2022 RINL has to bear Rs 30,800 crores extra burden on only iron ore compared to SAIL. If RINL is awarded captive mines like SAIL, there won't be need of going for loans for it's expansion.
As per the recent reports, for H1 2022-23 SAIL cost of production is Rs 62,062 per ton of steel compared to RINL production cost 68,218. This is more than Rs 6,156 per ton. RINL production cost includes high interest burden of Rs 4,151 (around 8.5% rate taken for expansion) and depreciation of Rs 3,620 (due to additional expansion of 4.2 million tons as per GOI national steel policy (NSP). Another major reason for high cost of production in RINL is low utilization of machinery as RINL could run at less than 4 million ton capacity from Jan 2022 due to high coal price and low working capital. If RINL is remerged with SAIL, RINL cost of production will be much lower than SAIL units and will benefit to the government and nation.
RINL financial position got deteriorated since 2015 with a heavy loan burden of Rs 20,000 crore taken for its expansion as directed by GoI as per National Steel Policy 2005, company is struggling to meet its ends. A Steel plant with high productivity and modern technology as its strength, needs your urgent attention and it is pertaining mention that RINL has registered PBT of RS 942 Cr during FY 2021-22 is a good sign of improvement.
Strategic Merger : At this juncture, Strategic remerger of RINL-SAIL as a single entity, all under the Ministry of Steel control, can work as synergy.
"A single Maha Steel Unit be formed by merging, steel plants of Steel Authority of India Ltd (SAIL) & its subsidiary units with Rashtriya Ispat Nigam Ltd and its subsidiary company.This Mega Steel merger also in line with the recommendations of parliament committee for PSUs submitted in the month of March 2013 shall be able to expand further steel capacities. This shall greatly help to realize the targets of National Steel Policy of 300MTPA steel capacity by 2030-31. On one side GoI is forcing SAIL to expand its capacity by 10 million tons by 2030 with one lakh crore and on the other hand GoI took decision for strategic sale of 7.3 MT RINL and 3 Mt Nagarnar NMDC plant and closer of VISL Bhadravathi plant. By merging SAIL/RINL/NMDC Nagarnar plant, SAIL can expand VISL and other plants further with its reserve funds. Each of steel units has its strengths and weaknesses, but merger of them into single unit would help them to synergize their strengths and turn the weaknesses into opportunities. Administrative expenses also will lower as both organizations will work under single board.
The bigger entity of RINL-SAIL can also be able to compete internationally. With "Make in India and Atma Nirbhar Bharat" concept, this merger will pay back large dividends to Government and Nation. In recent covid pandemic also, we have witnessed how steel PSUs raised for the occasion and supplied medical oxygen to the needy through out the country. Not only covid, in every calamity the employees of steel PSUs contributed to the Governments.
At this juncture, Steel Executives' Association humbly requests you to take this steps to save Steel sector as a whole by merging RINL, SAILand Nagarnar Steel plants. we strongly believe that under your dynamic leadership, steel sector will bounce back. The RINL employee fraternity will be grateful to you and your kind office.
With Warm Regards
Yours Sincerely,
General Secretary
President