Seminar On Best Safe Practices On Open Cast Mines Held At NCL
Seminar is in collaboration with DGMS under Azadi Ka Amrut Mahotsav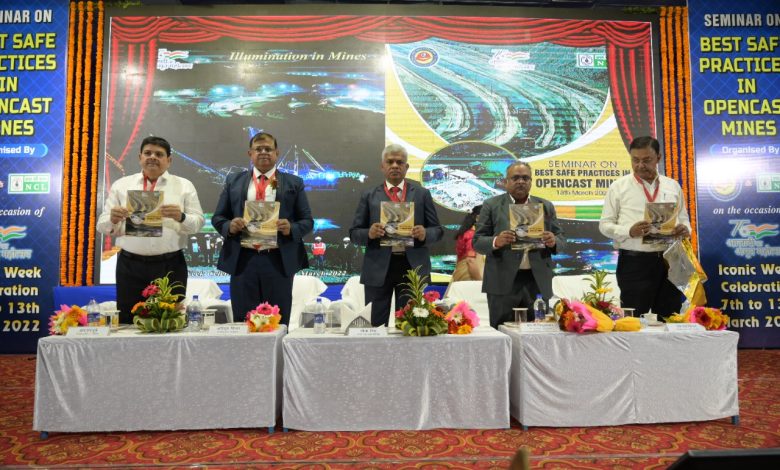 While Deputy DGMS, Ghaziabad, Shri S D Chiddarwar, inaugurated the seminar as chief guest, CMD of Northern Coalfields Limited (NCL) Shri Bhola Singh as Chairperson and Functional Directors of NCL as the patrons attended the seminar. Top DGMS officials are the special guest, while Unit heads of Singrauli based industries remain present as special invitees in the event.
Speaking on the occasion, Chief guest Shri S D Chiddarwar, Dy DGMS, Ghaziabad said that the seminar will be a landmark event for safety benchmarks. He said that in the post-independence era, the coal sector played a vital role towards development of the nation and evolved itself from traditional to mechanized mining in the last 75 Years. Describing mining as a challenging and dynamic field, he urged for continuous innovation and digital & technological interventions for safe and sustainable mining.
Addressing the gathering, CMD NCL Shri Bhola Singh called for safety first and said safety is a precondition for sustainable mining and described every miner as a safety custodian. Standard Safety Procedures in the mining operation should be followed in true spirit. He also emphasized to adopt the change for greater sustainability of the coal sector and urged for safe and environmental friendly mining aiming for 'Atmnirbhar Bharat'.
A Seminar souvenir was also released on the occasion of having a collection of all papers being presented. The films on 'Azadi ka Amrut Mahotsav' and Best Safe practices in NCL were also showcased at the event. An Exhibition Showcasing the new and innovative initiatives by all NCL Areas is on display at the event venue.
About 23 papers are being presented in the seminar by various industry experts in 4 different technical sessions categorized as Best & Safe Practices in Opencast Mining Operation, Best & Safe Practices in E&M Installations in Mines, Best & Safe Practices in preventing & dealing with Fire, Monsoon & Monitoring of Equipment's in Mines and Best & Safe Practices in preventing & dealing with Fire, Monsoon & Monitoring of Equipment's in Mines.
More than 250 industry experts are participating in the seminar including major participation from ground field making the seminar interactive and useful.