SIDBI Felicitates Badminton Champion Lakshya Sen
Laskhsya was awarded with a cash prize of Rs. 5 lakh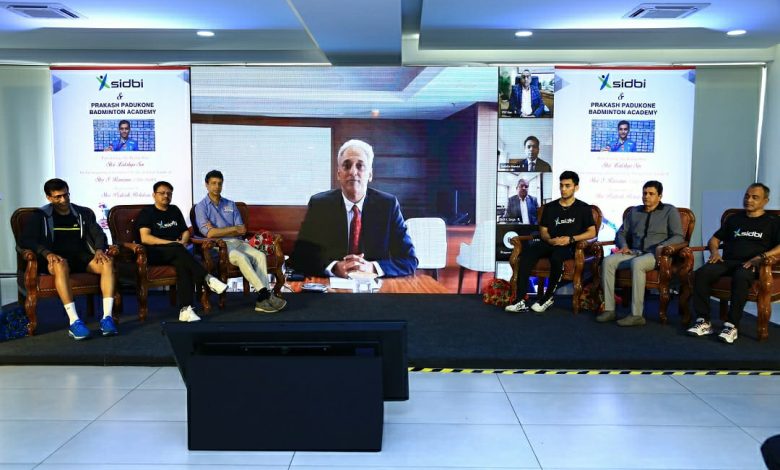 Small Industries Development Bank of India (SIDBI), the principal financial institution for MSMEs, felicitated Shri Lakshya Sen, the youngest Indian male shuttler to win a Badminton World Championship medal held at Spain in December 2021 and for winning the prestigious "India Open" tournament at Delhi in January 2022.
Laskhsya was awarded with a cash prize of Rs. 5 lakh at the event held at Prakash Padukone Badminton Academy. SIDBI's top executives Shri S.Ramann, CMD; Shri VSV Rao and Shri S.Mandal, DMDs, joined the event virtually. Padma Shree, Shri Prakash Padukone, former All England Champion also graced the event along with Shri Vimal Kumar, Head Coach, Prakash Padukone Badminton Academy (PPBA).
On the occasion, Shri Ramann said that 'SIDBI strongly believes in supporting individual excellence in sport as well as in business thereby inculcating the spirit of entrepreneurship which is crucial for the growth and development of our country. SIDBI's SWAVALAMBAN initiatives are aimed at creating skills for self-reliance and income generation. He also said that SIDBI will consider supporting PPBA in future also in its endeavour to produce future champions.
Shri Padukone in his address welcomed SIDBI's initiative and said that SIDBI is well reputed to nurture grass root MSMEs and hoped that corporates like SIDBI helping the sports ecosystem will facilitate sportspersons to bring more laurels to our country in upcoming sports events like Asian Games, Commonwealth Games and Olympics.
Shri Vimal Kumar, who spotted the raw talent in Lakshya at the age of 9, said that Lakshya has all the potential to become World's top player and win the elusive Olympic medal in Men's Badminton for India.
On the occasion, Shri Lakshya said that he is delighted with the recognition and receiving an award from India's premiere Financial Institution is highly motivating which would encourage him to work harder to bring more glory to the nation. SIDBI's senior officers and young trainees of the PPBA were also present on the occasion.