Union Home Minister Shri Amit Shah Chairs Meeting Of Heads Of Departments Of Shanghai Cooperation Organization
We need innovative strategies to build a safer world for ourselves and the generations to come, said Shri Amit Shah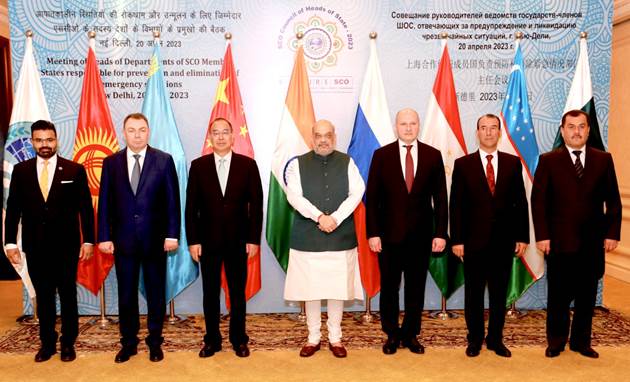 Union Home Minister and Minister of Cooperation Shri Amit Shah chaired the meeting of Heads of Departments of Shanghai Cooperation Organization (SCO) Member States responsible for Prevention and Elimination of Emergency Situations, in New Delhi today.
In his address, Union Home Minister and Minister of Cooperation said that under the leadership of Prime Minister Shri Narendra Modi, India attaches special importance to the Shanghai Cooperation Organization in promoting dialogue on the subject relating to multi-dimensional political, security and economic subjects. He said that India has been associated with the Shanghai Cooperation Organization since 2005 and playing an important role as an observer country, since then. At the 17th Summit in 2017, India became a full member of the Shanghai Cooperation Organization as part of an important step in the process of expansion of this organization.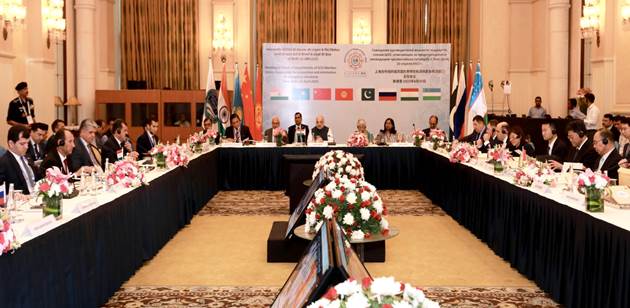 Shri Amit Shah said that it is a matter of pride that, India is donning the mantle of the Chair of the SCO Council of Heads of State for the very first time since becoming a full-fledged Member State in 2017. He said that India's priority as the Chair of the Council is to take forward the SECURE theme articulated by Prime Minister Shri Narendra Modi at the Qingdao Summit of the SCO in 2018, which means, S – Security, E – Economic Cooperation, C – Connectivity, U – Unity, R – Respect For Sovereignty and Integrity and E – Environment Protection. Shri Shah said that the Shanghai Cooperation Organization will probably be the largest regional organization in the world at this time, representing 40% of the global population, 25% of the global GDP and 22% of the world's total land area. He said that today, the Shanghai Cooperation Organization has developed into an international organization. The Shanghai Cooperation Organization has provided an excellent platform for harmonizing cooperation with all member countries.
Union Minister of Home and Minister of Cooperation said that under the leadership of Prime Minister Shri Narendra Modi, India attaches special importance to Disaster Risk Reduction and is ready to share its expertise and experience in this field for greater cooperation and mutual trust among SCO Member States. He said that India believes that no hazard is small or big and it does not leave anyone behind. Shri Shah said that India now has more accurate and timely early warning system in place and the country has seen a sea change in the way its early warning systems (EWS) of drought, flood, lightning, heat wave, cold wave, cyclone, have improved. He said that the forecast not only warns us about the disaster but also predicts the potential impact it is likely to cause. Shri Shah said that at the time of a natural disaster, it is of great importance how quickly the relief reaches the affected area and this speed reflects the preparedness of the team and the efficiency of their training.
Shri Amit Shah said that each and every life, family and their livelihood are priceless and we must make all possible efforts to protect it. He said that India's approach to Early Warning System is people-centric and we want to ensure that our forecasting and warning system is not just scientifically advanced but it is also communicated in a manner that is understandable, usable and actionable by common people. Shri Shah said that there was a time when cyclonic storms in India used to cause huge loss of life and property, but, India has made 'Community Empowerment' the basis of its efforts, due to which the damage caused by cyclones has been reduced, which is being appreciated by the whole world today.
Union Home Minister said that under the leadership of Prime Minister Shri Narendra Modi, India has taken several important initiatives of International cooperation in the field of disaster risk reduction. He said that the India-led Coalition for Disaster Resilient Infrastructure (CDRI) today has 39 members from across the world. CDRI is working with member countries to ensure that all investments in infrastructure is made in a manner that it makes our infrastructure resilient to disasters, thereby securing not just our present but also our future. Along with this, CDRI is placing particular emphasis on some of the most vulnerable regions of the world, such as Small Islands Developing States (SIDS). Also, on India's initiative, a Working Group on Disaster Risk Reduction has been constituted at the G-20, and the first meeting of this Group was held recently in Gandhinagar in Gujarat.
Shri Amit Shah said that the 'Tsunami Early Warning System' for the Indian Ocean Rim Countries established by the Indian National Centre for Oceanic Information Services (INCOIS) serves not just India but nearly two dozen other countries. Along with this, India has hosted joint bilateral exercises with SAARC, BIMSTEC, and SCO countries. He informed that India has deployed its National Disaster Response Force (NDRF) in disaster affected countries – especially Nepal after the 2015 earthquake. NDRF was also recently deployed for search and rescue operation within hours of earthquake in Turkiye. Shri Shah said that our culture has taught us 'Vasudhaiva Kutumbakam', which means "The World Is One Family", and, be it Turkiye or Syria, in 'Operation Dost', NDRF has again displayed these Indian values ​​to the world. He said that India considers the whole world as one family and if, in such a situation, any member of the family faces any crisis, then India considers it, its duty to move forward to help any member of the family. He said that the South Asia Geostationary Communication Satellite launched in 2017 is helping to improve communication, weather forecasting, etc. among the Indian sub-continent countries.
Union Home Minister said that over the past few years, the SCO region faced high intensity natural disasters with huge collateral economic losses and huge devastation has been caused around the world by earthquakes, droughts, floods, unpredictable storms, and sea-level rise which were associated with Climate Change and this has become an acute threat to global development. Shri Shah said that Risk reduction is not a local matter anymore and an action taken in one part of the world has an impact on the risk intensity in other parts of the world. He said that the challenges of disaster prevention are similar around the World, and, that is why we need to learn from each other, innovate and increase mutual cooperation.
Union Home Minister and Minister of Cooperation emphasised that unless we collectively achieve the Sustainable Development Goals (SDGs) and the SENDAI Framework Goals, it will be difficult to deliver on the goals set by both these frameworks. He said that keeping above in mind, India has organized two 'Knowledge Sharing Workshops' on mitigating the impacts of the earthquakes and the floods and it is heartening to note that all the Member States took active participation in both the events, which were concluded successfully.
Shri Amit Shah said that yo further strengthen the approach of SCO, 5 major areas can be identified to work –
Confidence Building Efforts in Asia
Collective Responsibility Approach
Expanding Cooperation in Communication and Information Sharing
Identification of Priority Areas
Use of newly developed technology in disaster resilience capacity building
Shri Shah, while speaking about above 5 areas in detail, said that adopting a collective responsibility approach for disaster resilience will help SCO member States to work together, more effectively. Along with this, by pooling our resources and expertise, Member States can avoid duplication of efforts and resources, and this will strengthen the region's overall disaster resilience approach. He said that SCO Member States can expand their cooperation on emergency situations by exchanging best practices of communication, coordination of response efforts and real-time information exchange. Shri Shah said that effective communication and information exchange can help ensure timely, specialized coordinated response to emergent situation. He said that new and developed technology can play an important role in disaster resilience capacity building. SCO Member States can share their experience and knowledge in the successful use of technologies, such as, Artificial Intelligence, Remote Sensing, Drone Technology and Data Analytics to improve in Early Warning Systems, Disaster Risk Assessment and Response. Home Minister said that similar technologies can also help in increasing the effectiveness and efficiency of our response efforts as it can prove to be a game-changer in search and rescue operations.
While concluding, Union Home Minister and Minister of Cooperation expressed confidence that this meeting in New Delhi will open up new avenues of cooperation among Member Countries. He said that under the leadership of PM Modi, India is committed to explore and avail the new opportunities to the fullest possible extent and willing to cooperate in sharing our experience in enhancing the role of SCO in the World Forum.