Union Minister Mukhtar Abbas Naqvi And Uttarakhand CM Dhami Inaugurate 30th Edition Of "Hunar Haat" At Dehradun
More than 5 lakh 60 thousand artisans, craftsmen have been provided employment opportunities through "Hunar Haat", said Naqvi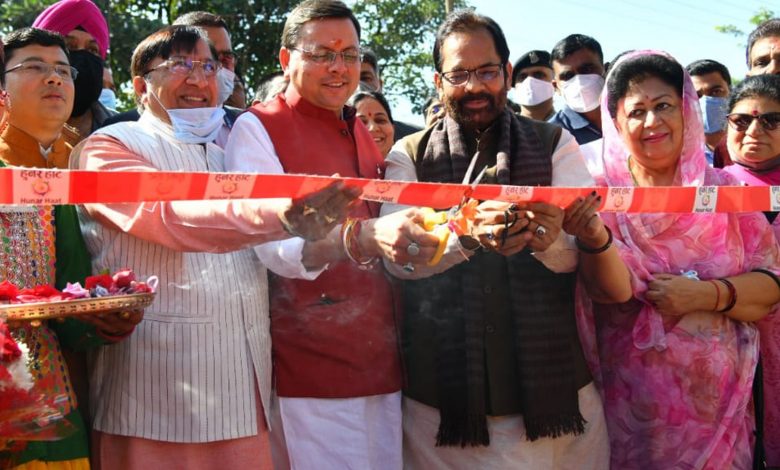 30th edition of "Hunar Haat" was inaugurated by the Union Minister for Minority Affairs Shri Mukhtar Abbas Naqvi and Chief Minister of Uttarakhand Shri Pushkar Singh Dhami at Dehradun today.
Speaking at the inaugural event the Union Minister said that 'Hunar Haat' is a unique platform that brings the artisans of the entire nation from Kutch to Cuttack, from Kashmir to Kanyakumari under one roof. Shri Naqvi added that "Vishwakarma Vatika" is also one of the main attraction in "Hunar Haats". Artisans and craftsmen are displaying live, how these traditional indigenous products are made in these "Vatikas". It will play an important role in preserving and promoting the traditional art and craft of the country.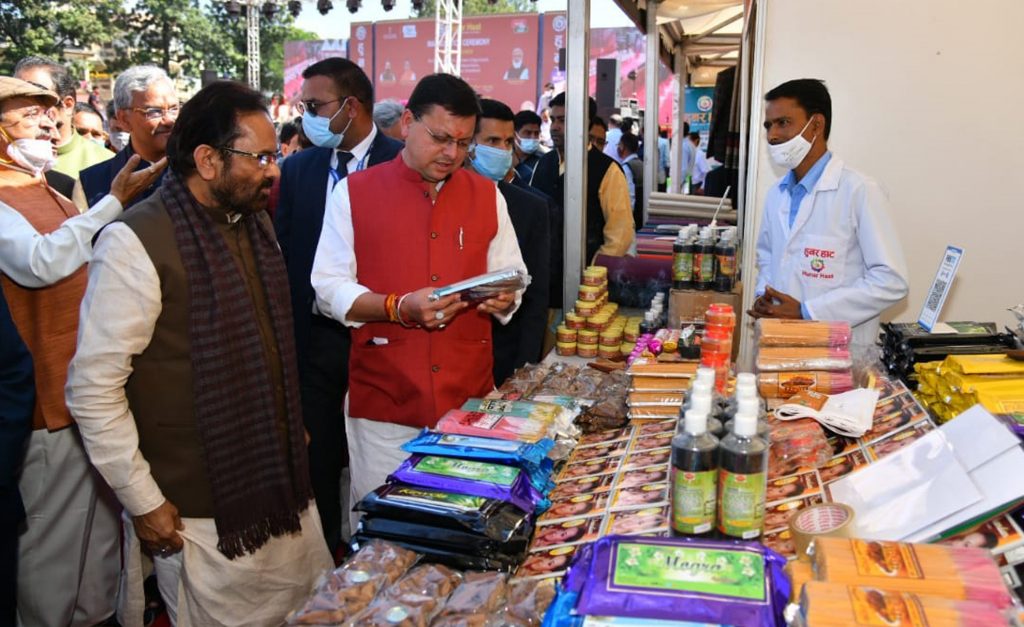 The Union Minister added that the craftsmen's skills to convert waste products into beautiful handicraft is on display at all these events. Sh. Naqvi said that the 'Hunar Haats' will also offer cuisine from across the nation under the umbrella of 'Mera Gaon Mera Desh' as well as cultural programmes by eminent artists to promote the vision of 'Vocal for Local'.
He assured firm support to provide market to the artisans from the hilly and border areas of Uttarakhand and expressed hope that such an event would become an yearly affair.
The Union Minister further added that "Hunar Haat" has become a "credible platform" to strengthen Prime Minister Shri Narendra Modi's vision for "Swadeshi-Swavlamban" and "Vocal for Local" and to provide a market to indigenous products of traditional artisans and craftsmen. During the last about 6 years, more than 5 lakh 60 thousand artisans, craftsmen and people associated with them have been provided employment and employment opportunities through "Hunar Haat".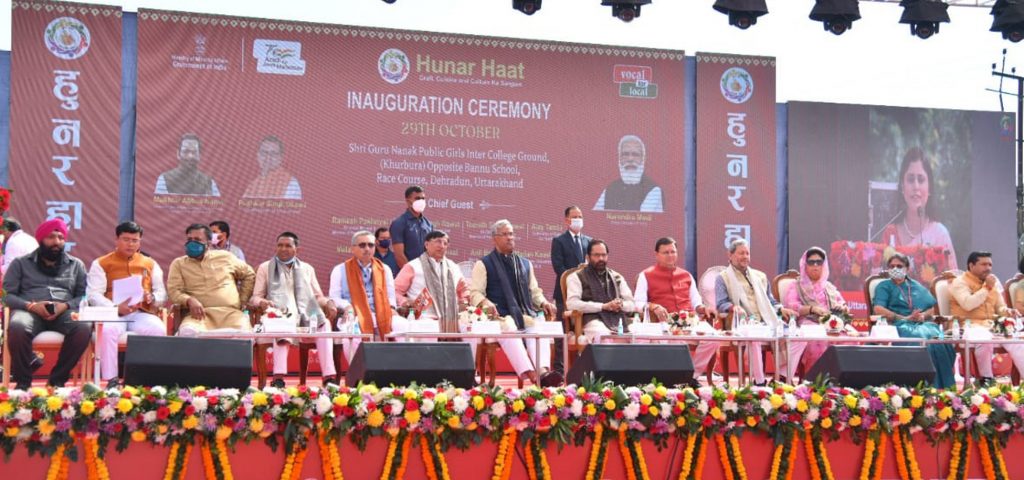 Shri Naqvi said that after Dehradun, "Hunar Haat" will be organised at Braj Raj Mahotsav, Vrindavan (from 10th November), Lucknow (12 to 21 November), Pragati Maidan, New Delhi (14th to 27th Nov), Hyderabad (26 November to 5 December), Surat (10 to 19 December), New Delhi (22 December 2021 to 2 January 2022). "Hunar Haat" will also be organised in Mysuru, Guwahati, Pune, Ahmedabad, Bhopal, Patna, Puducherry, Mumbai, Jammu, Chennai, Chandigarh, Agra, Prayagraj, Goa, Jaipur, Bengaluru, Kota, Sikkim, Srinagar, Leh, Shillong, Ranchi, Agartala and other places in the coming days.
Freedom fighters such as Smt Om Kumari and Shri Ram Pratap Bahuguna from Uttarakhand and their families were also felicitated by the Union Minister.
In his address after inauguration of "Hunar Haat", Shri Pushkar Singh Dhami said that there is no dearth of skilled and talented people in our country. Skilled artisans and craftsmen were looking for a market for their art and crafts. "Hunar Haat" has provided immense market and opportunities to such artisans and craftsmen.
Shri Dhami said that "Hunar Haat" has provided "market for products and products for market". He added that Union Ministry of Minority Affairs, under the leadership of Shri Naqvi, is providing effective market to artisans and craftsmen even from remote areas of the country.
On the occasion, MLA and former Uttarakhand Chief Minister Shri Trivendra Singh Rawat said that artisans and craftsmen of "Hunar Haat" are playing an important role in preserving and promoting traditional art and craft of the country.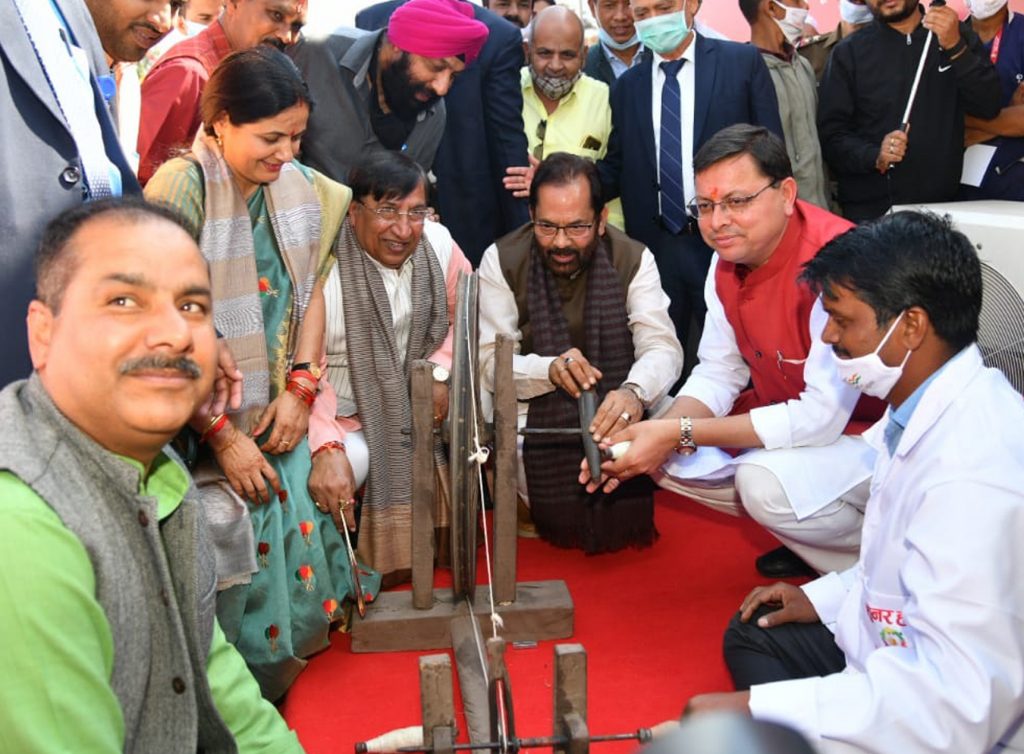 Organised in Dehradun, this is the 30th "Hunar Haat" in the series of "Hunar Haats", being organised across the country under "Azadi Ka Amrit Mahotsav". About 500 artisans and craftsmen from more than 30 States and Union Territories including Uttar Pradesh, Rajasthan, Delhi, Nagaland, Madhya Pradesh, Manipur, Bihar, Andhra Pradesh, Jharkhand, Goa, Punjab, Uttarakhand, Ladakh, Karnataka, Gujarat, Haryana, Jammu-Kashmir, West Bengal, Maharashtra, Chhattisgarh, Tamil Nadu and Kerala have brought their indigenous products made with wood, brass, bamboo, glass, cloth, paper, clay etc at "Hunar Haat" in Dehradun. Handmade products prepared by inmates of Dehradun jail are also available at the "Hunar Haat".
Besides "Vocal for Local", "Hunar Haat" is also based on the theme of "Best from Waste". Exquisite products made from used and discarded items in households such as plastic, paper, ply, wood, glass, ceramic, jute, cotton, wool as well as banana stems, sugarcane pulp, paddy and wheat straw-stems, husk, Tur, rubber, iron, brass, etc are available in "Hunar Haat".
The people will also enjoy traditional food from almost every corner of the country under one roof at "Bawarchikhana" section at "Hunar Haat" in Dehradun. The people will enjoy traditional foods from the regions and states such as Awadh, Rampur, Hyderabad, Maharashtra, Goa, Bihar, Rajasthan, North East, Odisha, Uttarakhand, West Bengal, Madhya Pradesh, New Delhi, Haryana, Punjab, Mysuru, Kerala etc.
Renowned artists such as Kailash Kher, Daler Mehndi, Pankaj Udhas, Sudesh Bhosle, Vinod Rathore, Rekha Raj, Rani Indrani, Prem Bhatia, Bhupendra Singh Bhuppi, Hamsar Hayat and others will perform various musical, cultural programmes in the evening every day at "Hunar Haat" in Dehradun.
"Hunar Haat" is also available at virtual and online platform http://hunarhaat.org and GeM portal. People of the country and abroad can buy "Hunar Haat" products digital and online also.
Lok Sabha MP and former Uttarakhand CM Shri Tirath Singh Rawat, Lok Sabha MP Smt. Mala Rajya Laxmi Shah, Rajya Sabha MP Shri Naresh Bansal, Secretary, Union Minority Affairs Ministry Smt Renuka Kumar and other senior officials were present at the function.