Union Power Minister Chairs Review Planning & Monitoring Meeting With States And State Power Utilities
Minister appreciates efforts made by all the stakeholders in addressing AT&C loss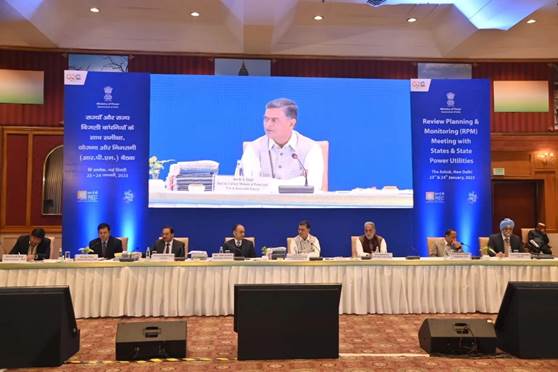 The Review Planning & Monitoring (RPM) meeting with States and State Power Utilities was held on 23rd & 24th January 2023 at New Delhi, under the chairmanship of Union Minister of Power and New & Renewable Energy Shri R. K. Singh, in the presence of Shri Krishan Pal, Minister of State for Power and Secretary (Power).
Shri R.K.Singh appreciated the efforts made by all the stakeholders in addressing AT&C loss in the country which has resulted in overall reduction of AT&C losses by 5% in FY 2021-22. He recognized the efforts made by States, who have achieved more than 3% reduction in AT&C losses from FY 2020-21 to FY 2021-22, and appreciated the initiatives taken to meet such reduction. These States include Andhra Pradesh, Haryana, Jharkhand, Karnataka, Madhya Pradesh, Maharashtra, Meghalaya, Punjab, Rajasthan, Tripura and West Bengal. Few States like Gujarat, Himachal Pradesh, Kerala and Uttarakhand were also appreciated for steadily maintaining their losses within reasonable limits. Further, the States that have not been able to improve on their losses were advised to take up measures for achieving loss reduction targets under RDSS.
The Minister stressed on the need to address inefficiencies in distribution sector with priority on reduction of losses, maintaining proper subsidy accounts, energy accounting and to ensure prepaid smart metering implementation to enhance revenue realization and thereby avoiding undesirable borrowings. Various aspects related to financial viability of power sector and issues related to fiscal discipline and payment of dues towards GENCOs were also deliberated. The Minister also emphasized the importance of implementing Time of Day (ToD) tariff to ensure flattening of load curves while ensuring that tariff for solar hours be kept reasonable.
During the meeting, status of Revamped Distribution Sector Scheme (RDSS) launched by Government of India to enhance operation efficiency to ensure financial viability of the distribution sector was discussed and state wise progress of the scheme was deliberated in detail. The Minister reviewed state wise performance of DISCOMs/Power Departments, compliance to Pre-Qualification Criteria under RDSS, Progress on RDSS implementation and other key elements including subsidy and energy accounting, corporate governance etc.
The Minister laid importance on implementation of smart metering in pre-paid mode. The states have been advised to expedite the implementation of scheme. The states were further advised to ensure that no penalty be levied on any consumer for higher load discovered after installation of prepaid smart meter and billing may be done on actual load basis.
The Minister also highlighted the benefits of solarization of agriculture feeders as it will provide power, at lower cost, during the daytime to agriculture consumers and reduce subsidy burden of the state government.
Best practices adopted for disaster resilience in power distribution infrastructure, consumer engagement for smart meter deployment, IT initiatives in power distribution and subsidy accounting mechanism were shared in the meeting. The Minister emphasized on collaborating and adoption by other states.
The Minister stressed on the need to conduct survey on availability of power in rural and urban areas. Results of such survey shall be reviewed after implementation of RDSS with a view to ensure 24×7 power supply throughout the country.
The Minister of State for Power expressed satisfaction over participation of states/DISCOMs under RDSS to take up reforms and urged for expeditious implementation of smart metering and loss reduction works sanctioned under the scheme.
It was reiterated that collective effort from all the stakeholders including state/central government, utilities and industry will ensure seamless transition towards an economically viable and environmentally sustainable electricity distribution sector.