Vice President Of India Lays Foundation Stone For Nirali Multi-Specialty Hospital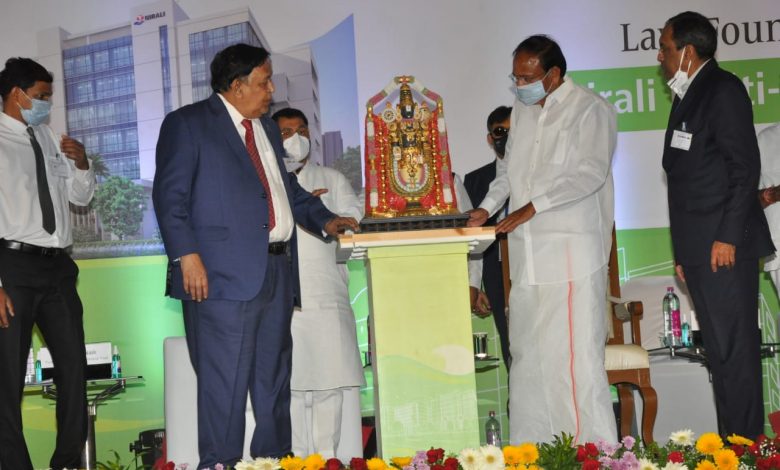 Hon'ble Vice President of India M. Venkaiah Naidu today laid the foundation stone of the Nirali Multi-specialty Hospital at Navsari. Founded in his personal capacity by Mr. A.M. Naik, Chairman of Larsen & Toubro, the hospital will come up at the eight-acre A.M. Naik Healthcare Complex, adjacent to the soon-to-be-inaugurated Nirali Cancer Hospital. It is a tribute to Mr. Naik's long standing philanthropic and charitable ventures, under the Nirali Memorial Medical Trust (NMMT), setup with the goal of promoting health and ensuring the wellbeing of the community.
The ceremony was graced with the presence of dignitaries including, A M Naik, Group Chairman – Larsen & Toubro, S N Subrahmanyan, CEO and MD L&T, Jignesh Naik, Board Member of Nirali Memorial Medical Trust and Y.S. Trivedi, Advisor and Member – Ecom, L&T. C R Patil, Member of Parliament, Navsari and Ishwarbhai Parmar, Minister of Social Justice, Government of Gujarat attended the ceremony. True to its vision, the trust endeavors to continuously augment its ability to eliminate uncertainties in diagnostics and treatments, promote comprehensive care, alleviate suffering and expedite recovery.
Commenting on the occasion, Naik, said, "While the inspiration for community service came from my father, the direction towards healthcare came from my granddaughter Nirali. I am honoured that I could use some of my time, energy and wealth for the betterment of needy by creating healthcare and educational infrastructure in my Janmabhoomi."
Naik, who is recognised as 'India's most generous professional manager' by the EdelGive Hurun India's Philanthropy List 2020, focusses his philanthropic efforts in the field of healthcare, education and skill-building.
"It's a moment of joy that Honourable Vice President of India Shri M. Venkaiah Naidu today laid the foundation stone of Nirali Multi-speciality Hospital. Once complete and operational, I am confident it will be the best-in-class and affordable tertiary healthcare center in entire south Gujarat," added Mr Naik.
Nirali Multi Specialty Hospital will be operated by the leading healthcare service provider – Apollo Hospitals. The 500-bed hospital will be equipped with the state-of-the-art facilities and manned by dedicated teams of experienced doctors and nursing staff. It will offer a wide range of services including endocrinology, nephrology, diabetology, respiratory medicine and periodic health check-up. Advanced procedures such as general surgery including gastroenterology and urology, cardiology and cardiothoracic surgery, pediatrics including neonatology, obstetrics & gynecology, orthopedic treatment and emergency, critical care and trauma care will also be provided.
The long track record of Nirali Memorial Medical Trust includes setting up a multi-diagnostic medical centre in Powai, Mumbai; a radiation centre in Surat; and mobile medical units which serve several rural districts.
Nirali Memorial Medical Trust (NMMT) is a public charitable Trust founded by Mr. A.M. Naik to carry out philanthropic activities in the areas of medical care. Named in the memory of Nirali, granddaughter of Mr Naik who passed away due to cancer at the age of two, NMMT was set up by the Naik family to offer advanced medical care, especially those who cannot afford access to quality treatment. NMMT is also instrumental in augmenting the medical facilities at Kharel Hospital in Gujarat by activating 'Nichchhabhai Ratanaji Naik Wing' in the facility. The Trust has also set up a new facility at Powai in Mumbai, called, 'A.M. Naik Charitable Health Centre' that focuses on providing access to best quality medical care to local communities of Mumbai at affordable prices.
Along with NMMT, Naik has also founded the Naik Charitable Trust (NCT), which is focused on providing quality education services to the underprivileged sections of the society.