Yet Another Record Made By RINL Collective
Previous highest converter lining life of 7847 surpassed by LD converter-1 of Steel Melting Shop-2 (SMS-2)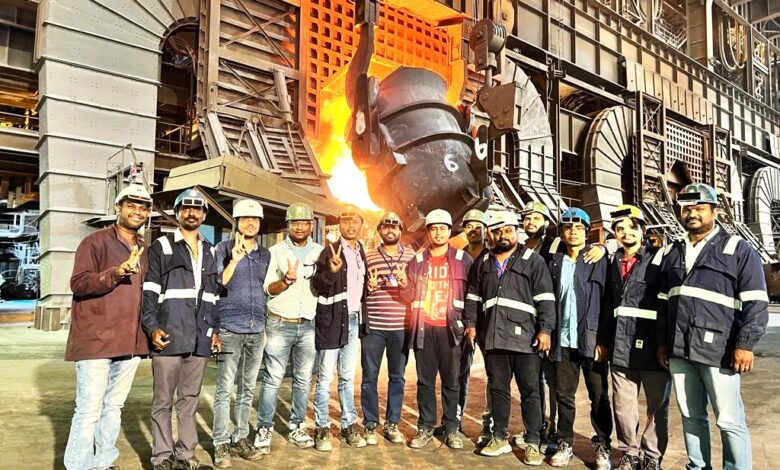 The dedicated and committed efforts by RINL collective, especially the STEEL MELTING SHOP-2 & Refractory Engineering collective have resulted in crossing the previous highest converter lining life land mark of 7847 by the converter 1 of SMS 2 on 9/9/2023 in C shift (night shift).
This is the best converter lining life for any converter in both SMS-1 & SMS-2, since inception.
The previous best converter lining life of 7847 was achieved by the Converter-1 of steel melting shop-1(SMS) on 17/7/2019.
The present lining life is 7849 and still good enough to make many more heats.
Lining life in a Steelmaking converter refers to the duration for which the refractory lining inside the converter vessel remains effective and functional. The refractory lining is crucial in steelmaking converters as it provides insulation and protection against the extreme temperatures and chemical reactions involved in the steel making process.
Prolonged lining life of a converter in steel making also helps in Cost Savings, Increased Productivity, Energy Efficiency, Improved Steel Quality, Environmental Benefits and Enhanced Safety.
Shri Atul Bhatt, CMD, RINL and Shri AK Bagchi, Director (Projects) & additional charge Director (Operations), RINL congratulated especially the Steel Melting Shop-2(SMS-2) and Refractory Engineering collective and other associated departments of RINL for achieving this significant feat at RINL.