Coal India Limited In Another Big Mess With Bank Guarantees From Russian Bank Worth Millions
Conflict between Russia and Ukraine could see huge hits to the profits of Coal India Limited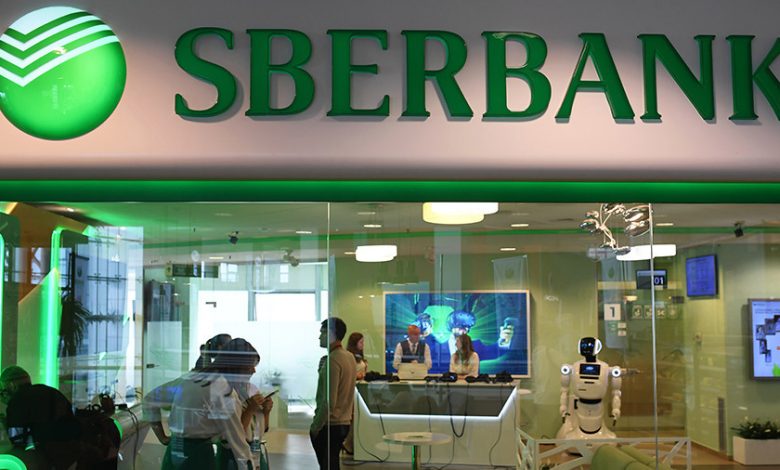 The famous Bond movie "From Russia with Love" seems to be quite close to the heart of Coal India Limited but the world scenario, especially with the Russia – Ukraine conflict in the region, has somewhat changed the rhetoric for the Coal giant PSU of India.
Bank guarantees worth more than 65 crores (In US$ and INR) from a Russian Bank having an office in New Delhi, by the Coal PSU, now hang as the Sword of Damocles on Coal India Limited. In a contract dated 07/07/2021,CIL had ordered 11 electric rope shovels from St Petersburg-based IZ-KARTEZ, named after P. G. Korobkov, the other half of UZTM-KARTEX which is ultimately owned by Russia's Gazprombank.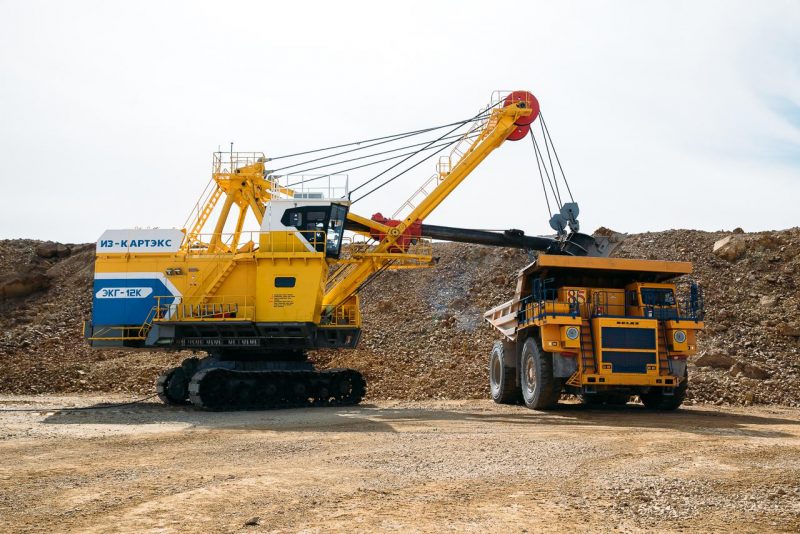 The INR1461.81 crore (over $195 million) contract with IZ-KARTEX covers supply, installation, and commissioning of 11 20 m³ electric rope shovels for Northern Coalfields Ltd (NCL). The delivery of all the equipment is to be made by September 2023. The contract includes the supply of spares & consumables for a period of eight years. Binay Dayal, Director – Technical, CIL signed the contract on behalf of CIL, and Yan V Tsenter, Chairman of Board of Directors and General Director, IZ-KARTEX signed on behalf of the Russian OEM.
For this contract, the SBER Bank of Russia, has issued Bank Guarantees to the tune of US$ 235094 and INR 47,645,933 and the PSU had happily accepted the same.
But situation rapidly changing on ground, Russia's largest lender Sberbank (SBER.MM) has quit almost all European markets, blaming big cash outflows and threats to its staff and property following Russia's invasion of Ukraine and Western sanctions. The move seemed inevitable after the European Central Bank (ECB) ordered the closure of the bank's European arm, having warned it faced failure because of a run on deposits sparked by the invasion, which Moscow calls a "special operation".
The move highlights the pressure some Russian businesses are facing from unprecedented steps by the West to isolate Moscow, including sanctions on its central bank and the exclusion of some of its banks from global payments system SWIFT.
Dark days ahead for the Russian Ruble
According to a recent report from Fortune – From 2017 through 2021, Russia's currency traded between 57 and 80 rubles per dollar, meaning it's since lost well over 20% of its value, and experts say more pain is on the horizon. "Unless there is a ceasefire, and something changes materially from this point, it's very difficult to see the Russian ruble gaining in value against other foreign exchange currencies as the country is now being singled out of the global financial system," Swissquote's Ozkardeskaya said.
Backing up Ozkardeskaya's claims, JP Morgan's foreign currency exchange experts now believe Russia's currency will average 105 rubles per dollar through 2022. Ozkardeskaya also noted that recent moves by Russian central banks to limit citizens from exchanging money won't have much of an impact on the ruble's value. The economy will also struggle to rebound because demand for Russian oil and commodities has weakened dramatically, the analyst said, while Western efforts to achieve more energy independence will likely make it difficult for Russia to return to its pre-war status as a major energy supplier.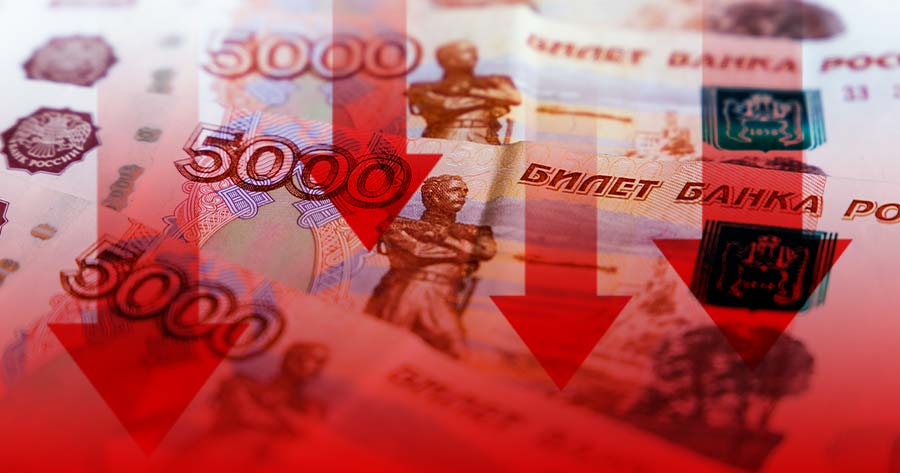 JP Morgan says Russia's economy will, in fact, shrink next year. The bank predicts the country's GDP will decline 7% in 2022 and that inflation will exceed 14%, adding to Russia's economic struggles. "I don't see how the Russian ruble could appreciate sustainably from these levels because the prospects for economic growth are very limited. We will probably see an economic recession in
Russia," Ozkardeskaya added.
Russia is teetering on the edge of a possible sovereign debt default
According to a recent New York Times report Russia is teetering on the edge of a possible sovereign debt default, and the first sign could come as soon as Wednesday. The Russian government owes about $40 billion in debt denominated in U.S. dollars and euros, and half of those bonds are owned by foreign investors. And Russian corporations have racked up approximately $100 billion in foreign currency debt, JPMorgan estimates. On Wednesday, $117 million in interest payments on dollar-denominated government debt are due.
But Russia is increasingly isolated from global financial markets, and investors are losing hope that they will see their money. As the government strives to protect what's left of its access to foreign currency, it has suggested it would pay its dollar- or euro-denominated debt obligations in rubles instead. That has prompted credit rating agencies to warn of an imminent default. The Russian currency has lost nearly 40 percent of its value against the U.S. dollar in the past month. Even if the payments were made, economic sanctions would make it difficult for Western lenders to access the rubles if they are in Russian bank accounts.
"It is not that Russia doesn't have money," Kristalina Georgieva, managing director of the International Monetary Fund, told reporters last week. The problem is, Russia can't use a lot of its international currency reserves, she said, because they have been frozen by sanctions. "I'm not going to speculate what may or may not happen, but just to say that no more we talk about Russian default as an improbable event."
Last week, the chief economist of the World Bank said Russia and Belarus were squarely in "default territory," and Fitch Ratings said a default was imminent because sanctions had diminished Russia's willingness to repay its foreign debts.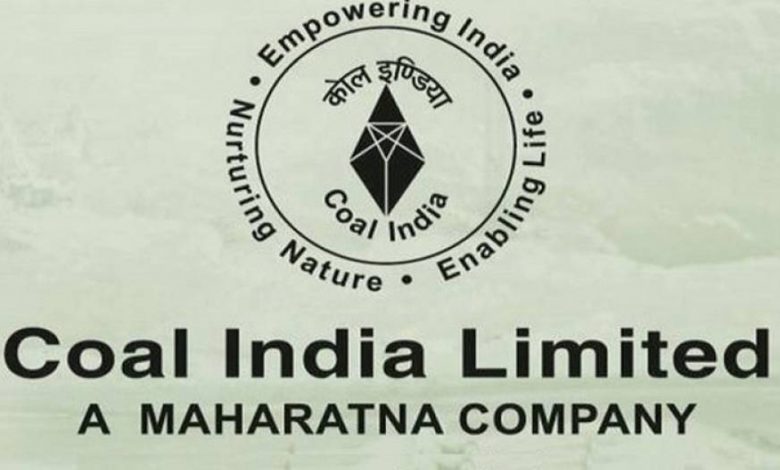 www.indianpsu.com sent two emails each to Mr. Pramod Agarwal, CMD of Coal India Limited, the New Delhi Branch of SBER Bank of Russia and to Mr. Bharat Gandhi, the CMD of SRB Group, which is the Indian representative of the Russian company and asked the following questions –
a) In the given situation, does the SBER Bank of Russia still stands behind the above-mentioned Bank Guarantees?
b) Have these Performance Bank Guarantees have been vetted by any Indian or Private Bank?
c) If yes, please mention the name of the bank
d) And, whether the Indian Bank still validates the above mentioned PBGs?
Read Also : https://indianpsu.com/billion-dollar-fate-of-coal-india-limited-hangs-in-air-as-sanctions-get-tougher-on-russia/
But strangely enough, repeated emails to the three entities including Coal India Limited (CIL) failed to evoke a single reply.